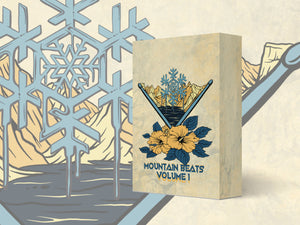 Playlist curators are looking for unique, authentic, and fresh sounding beats to share with their millions of followers. Mountain Beats Volume I will help you catch their attention! This pack is filled with crunchy drums, organic atmospheres, and easy to use beat kits that will help you produce professional quality tracks while enhancing your creative work flow and productivity! 
This pack was created specifically for lofi, chillhop, and mellow beats producers. With over 640 of the most unique samples available on the market, Mountain Beats Volume I will become your 'go to' sample pack for every studio session.
So what's in the pack?
23 Atmosphere & Texture Loops
25 Beat Kits (Full Loops, Top Loops, Kick Loops, Snare Loops, Perc Loops)
30 Kicks

30 Snares
20 Snaps
20 Claps
15 Crashes
15 Cymbal Swells
15 Closed Hihats
18 Open hihats
15 Rides
58 Percs
124 Raw Adventure Percs
23 Atmosphere Loops: These atmosphere loops include the subtle currents of crystal clear mountain streams, the roars of hidden waterfalls, the light drizzling of Colorado rainstorms, and crashing waves on the shores of high alpine lakes.
25 Beat Kits: This portion of the sample pack is an absolute game changer! Utilizing Mountain Beats Volume I's original drum one shots and atmosphere loops, I created 25 unique Beat Kits that will drastically increase your production workflow.  Each beat kit includes full loops, top loops, kick and snare loops, along with every individual stem. This will allow you to experiment with different loops from separate beat kits to make your own unique beat in seconds!
236 Drum One Shots: After returning from my mountain adventures, I locked myself in my studio and crafted 236 original drum sounds utilizing the raw recordings that I captured. I carefully crafted each one shot with lofi, chillhop, and mellow producers in mind. I've been utilizing these one shots in my personal beats and have been blown away by the unique energy they've been adding to my tunes! Below is a detailed breakdown of what's included within the One Shots folder: (20 Claps, 15 Crashes, 15 Cymbal Swells, 15 Closed Hihats, 18 Open Hihats, 15 Rides, 30 Kick Drums, 58 Percs, 20 Snaps, and 30 Snares)
124 Raw Recordings: These are the original sounds that I utilized to create the unique, organic, and energy filled Drum One Shots. Every Raw Recording was captured on one of my 2020 excursions. The Raw Recordings include splashing rocks, percussion hits recorded on mountain tops, and even experimental sounds created with snow! Although I utilized these core sounds to create every Drum One Shot included in this pack, you can utilize these Raw Recordings to create organic foley and backing percussive elements. You can even experiment with making your own snares, kicks, and cymbals! 
Story Time:
During the summer of 2020, I spent countless hours climbing Colorado's most spectacular peaks. On these excursions, I experienced the most breathtaking views, peaceful mountain streams, challenging rock formations, and colorful sunrises. Rather than solely capturing the visual beauty of these magical locations, I wanted to also capture the sounds and inspiring energy that these mountainous landscapes provide. As I hiked and climbed through these magnificent mountain ranges, I utilized my Zoom recorder to capture atmospheric elements, percussion hits, and natural foley sounds. Mountain Beats Volume I is the culmination of over 60 miles hiked, 12 successful summits of mountains that reach above 12,000 feet in elevation, and many hours of technical preparation. This sample pack is truly the most artistic, unique, and passion infusing musical project that I have ever created. 
If you're ready to expand your sound, increase your production workflow, and take your beats to the next level, Mountain Beats Volume I is the sample pack for you! If you have any questions at all, please DM me (@chilledsamples) or send me an email (chilledsamples@gmail.com). I'd love to connect with you and hear your art!
Cheers to creation,
Cody Christianson (Chilled Samples)